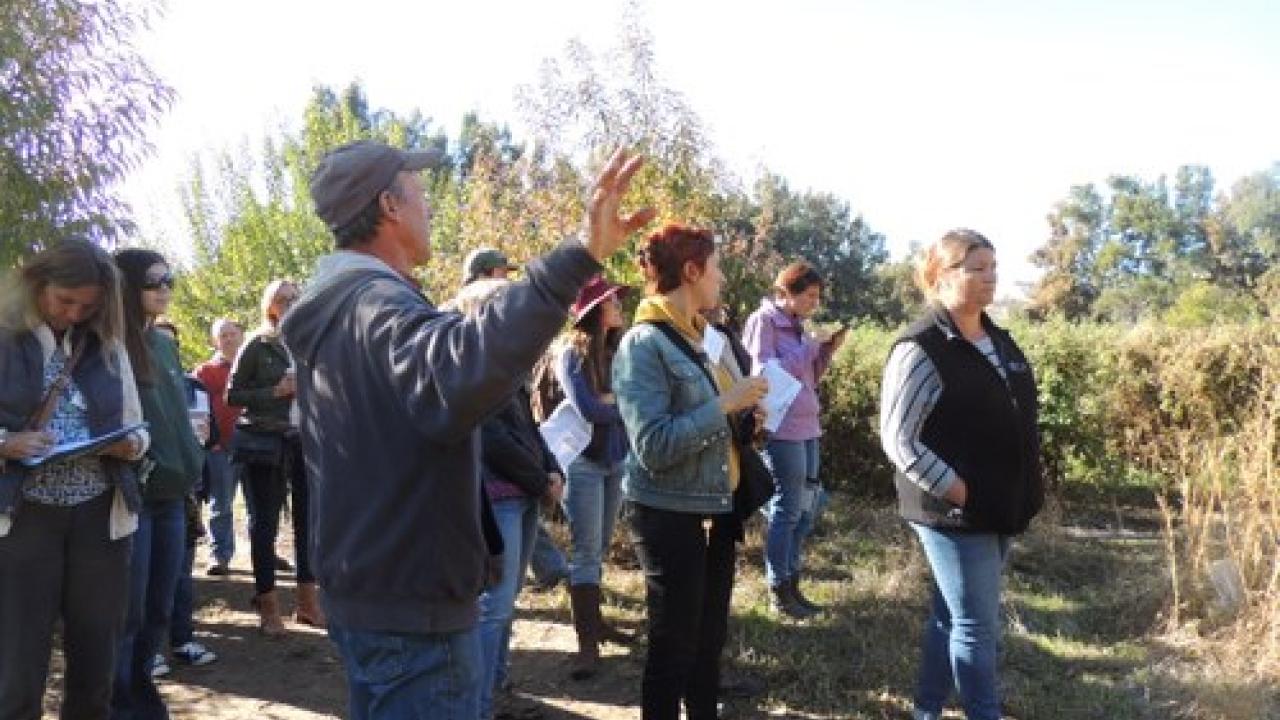 Location
San Marcos Community Center, 3 Civic Center Drive, San Marcos, CA 92069
A professional development workshop for agricultural and tourism professionals, agritourism leaders and government staff and officials
Event: San Diego County Teaching and Supporting Agritourism WorkshopDates: January 22 - 23, 2018
Times: 8:30 a.m. - 5:00 p.m. each day
Location: San Marcos Community Center, 3 Civic Center Drive, San Marcos, CA 92069
Dear agricultural or tourism professional,
Would you like to assist farmers and ranchers in your region develop and promote successful agritourism enterprises on their farms or ranches? If so, please keep reading!

We invite you to apply to participate in a FREE two-day Professional Development workshop offered by UC Sustainable Agriculture Research and Education Program (UC SAREP), UC Cooperative Extension and local partners, and funded by Western Sustainable Agriculture Research and Education (Western SARE).

This training will provide interactive, hands-on sessions with tools, resources and individual consultation for developing agritourism workshops and other support activities for agricultural producers in your region. Content will focus on the opportunities and challenges faced by producers in establishing and marketing agritourism operations.
See: Workshop agenda
Apply here to participate in the San Diego workshop
More detailed description of the program:
In two different California regions (San Diego and Yolo Counties) we are offering a 2-day workshop (including a full-day tour) to 25 selected participants at each workshop. See the agenda, presentations and resources from the November 2017 Yolo County workshop.
Interested agricultural educators, tourism professionals, agritourism organization leaders and municipal and county staff will be selected to participate through an application process. Applicants will be asked about their plans for implementing the training received, and will be selected based on the seriousness of their intentions.
Travel expenses will be available for 12 agricultural educators participating in each workshop. Other professionals will also be invited to participate, bringing the full number of participants in each workshop to 25.
Day 1 will be a bus tour of three or four agritourism operations with demonstrations and talks on successes and challenges of agritourism by the farmers hosting each visit. The tour will be followed by a group discussion of the operations visited.
Day 2 will be interactive presentations by experienced trainers on agritourism planning issues. The topics will include: deciding if agritourism is right for you, permitting and regulations for agritourism, business planning, liability, safety and emergency planning, creating a marketing strategy, and collaborating with community partners.

The San Diego County "Teaching and Supporting Agritourism" Workshop will be January 22 - 23, 2018. The first day will feature a tour of North county farms offering agritourism, including discussion about agritourism development with the host farmers. The tour will leave from and return to the San Marcos Community Center. The second day will be a full day participatory workshop with local experts at the San Marcos Community Center.
This material is based upon work that is supported by the National Institute of Food and Agriculture, U.S. Department of Agriculture, through the Western Sustainable Agriculture Research and Education program under subaward number EW17-012. USDA is an equal opportunity employer and service provider.