The UC Division of Agriculture and Natural Resources defines urban agriculture as practices that include production, distribution, and marketing of food and other products within the cores of metropolitan areas and at their edges (Adapted from the American Planning Association, 2011). This can be comprised of community and school gardens, backyard and rooftop horticulture, and innovative production methods that maximize output within a constrained physical area. Also included in this definition are those farms supplying to urban farmers markets, community supported agriculture (CSA), or farms located within metropolitan green belts.
Overview
---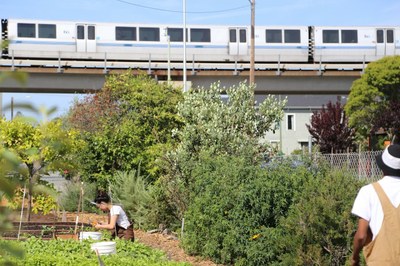 To appropriately determine needs and resources for urban agriculturalists, UC researchers classified UA into two major typologies. The first is related to food cultivation within city limits, and the second is the peri-urban agriculture that stems from local producers who market and transport directly to urban centers. Both of these forms of UA initiatives allow for the development of a variety of environmental, economic, and social benefits to the communities in which they are found. Beyond individual community members these projects impact a variety of stakeholders including private or nonprofit organizations, and local, regional or state governments.
The ecosystem services provided by UA can partially mitigate many of the negative impacts that urbanization may have on the natural environment. Urban farms, for example, may help reduce runoff associated with heavy rainfall by enhancing soil structure and porosity in what could otherwise be vacant lots; community gardens can help improve air quality; and backyard beekeeping can provide pollination services to a larger area of the community.
Growing food in cities or sourcing goods from urban farmers may reduce transportation costs and corresponding fossil fuel consumption. Supporting local food producers, such as through membership in a CSA, also contributes to regional economic development by keeping capital within local circulation. In a UC survey many CSA members listed supporting the local economy as one of the most important reasons for joining.
In respect to property value and cultural appreciation, gardens may function similarly to other public parks and recreation areas. Community gardens, however, may be cheaper for a city to maintain due to a general reliance on volunteer labor. Many UA practices will also encourage cross-cultural or cross-generational interactions, provide educational opportunities for both children and adults, and facilitate community cohesion.
UA can also positively impact the physical health of urban dwellers. A UC ANR literature review provides an in-depth look at the social, health related, and economic impacts that UA can have on individuals and communities.
One of the most significant inhibiting factors in starting an urban garden is acquiring sufficient physical and capital resources. Land is generally more expensive in urban areas, so some farmers seek out partnerships with local organizations to defray startup and operational costs.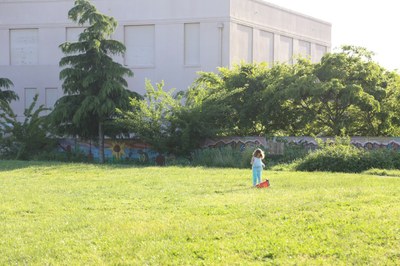 Beyond acquiring land, many farmers must also consider the possibility of ground contamination from previous land uses. Heavy metals present in the soil of many urban sites can reduce plant yields and cause food safety issues.  
Legal issues and conflicts of interest may also challenge UA initiatives. Regulations regarding water and land use can be difficult to follow or financially restrictive. For example, noise regulations may limit the ability to use efficiency-maximizing tools and machinery to increase profitability, while runoff, odors, or waste disposal may cause community disagreements. A final concern to some UA projects is the lack of accessibility or affordability for underserved communities.
Failure to accommodate under-resourced communities, such as an absence of public transportation to garden locations or the lack of acceptance of EBT credit at local farmers markets, can further exacerbate the problem of inequality in food security and accessibility.
University of California Contributions - Research
---
Addressing Challenges to Implementing Urban Agriculture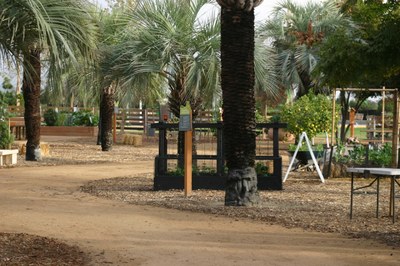 A preliminary review and needs assessment of urban agriculture conducted by UC researchers was published in 2013. The needs assessment was initiated to better understand national trends of UA and build support for its relevance in California. The project involved a literature review of the economic, social, and health impacts of UA; a survey of UC personnel engaged in UA activities, and interviews with urban farmers and local policy makers participating in UA initiatives. The assessment found that in California the limited amount of research-based training and information previously attributed to UA practices was likely due to the tendency for urban farming to fall between the assistance specifically tailored to small-scale gardeners and that provided to large commercial farmers.
To address a growing need for UA resources, UC ANR has developed a range of educational resources and research based technical assistance. UC ANR provides a website dedicated to urban agriculture with a variety of informational publications. Included on the site is information for starting an urban farm, the Urban Ag Blog for articles on California UA developments, and a list of additional resources for those interested in engaging in an UA project.
In an effort to better understand the nuances of urban agriculture that had not been previously documented, researchers at UCLA prepared an empirical Assessment of UA in Los Angeles County. Along with an extensive review of UA initiatives in the area, the project team created a Cultivate Los Angeles website with interactive maps and additional resources for site-specific programs. 
To facilitate the understanding of zoning laws UC ANR has also published significant information regarding updated local, state, and national zoning laws, specifically those related to AB 551, California's Urban Agriculture Incentive Zones Act. In 2014, California implemented this bill to give landowners in metropolitan areas tax incentives for putting land into agricultural use. To comply, cities and counties must create urban agriculture incentive zones. Due to the potentially confusing nature of these new laws UC helped develop a comprehensive Guide to Implementing the Urban Agricultural Incentive Zones Act.
UC has supported a number of other research projects associated with CSAs and farmers markets in metropolitan areas. In 2005, University of California Press published "City Bountiful: A Century of Community Gardening in America" by Laura Lawson, which documents the evolution of urban garden programs in the US. The Center for Agroecology and Sustainable Food Systems at UC Santa Cruz studied the impact of Community Supported Agriculture on the Central Coast. This program has also published a detailed guide for Teaching Organic Farming and Gardening. 
The UC Santa Cruz Center for Agroecology and Sustainable Food Systems also has several research projects aimed at better understanding the impact of urban agriculture on insect biodiversity and natural enemies. The Berkeley Food Institute published a report to assess the agronomic problems limiting productivity and establish a series of on-farm research trials to explore best practices and management designs in UA.
The Lawrence Berkeley National Laboratory has launched a Precision Urban Agriculture Initiative with a stated goal to "catalyze large-scale, cost-effective production of fresh vegetables in urban settings, in a way that directly reduces the environmental footprint, increases access to nutritious food for low-income urban communities, and improves the overall quality of life in America's cities."
UC Resources
---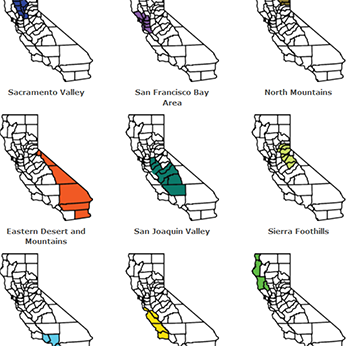 The UC Division of Agriculture and Natural Resources maintains a directory of agritourism operations in the state of California.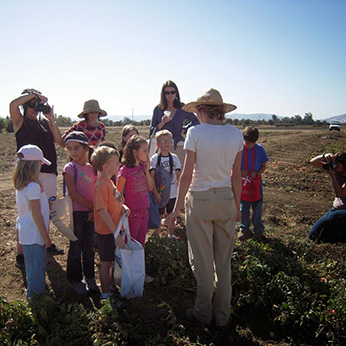 The UCCE Agritourism program, housed at UC SAREP, provides resources for agritourism operators and hosts California's statewide directory and calendar of agritourism operations.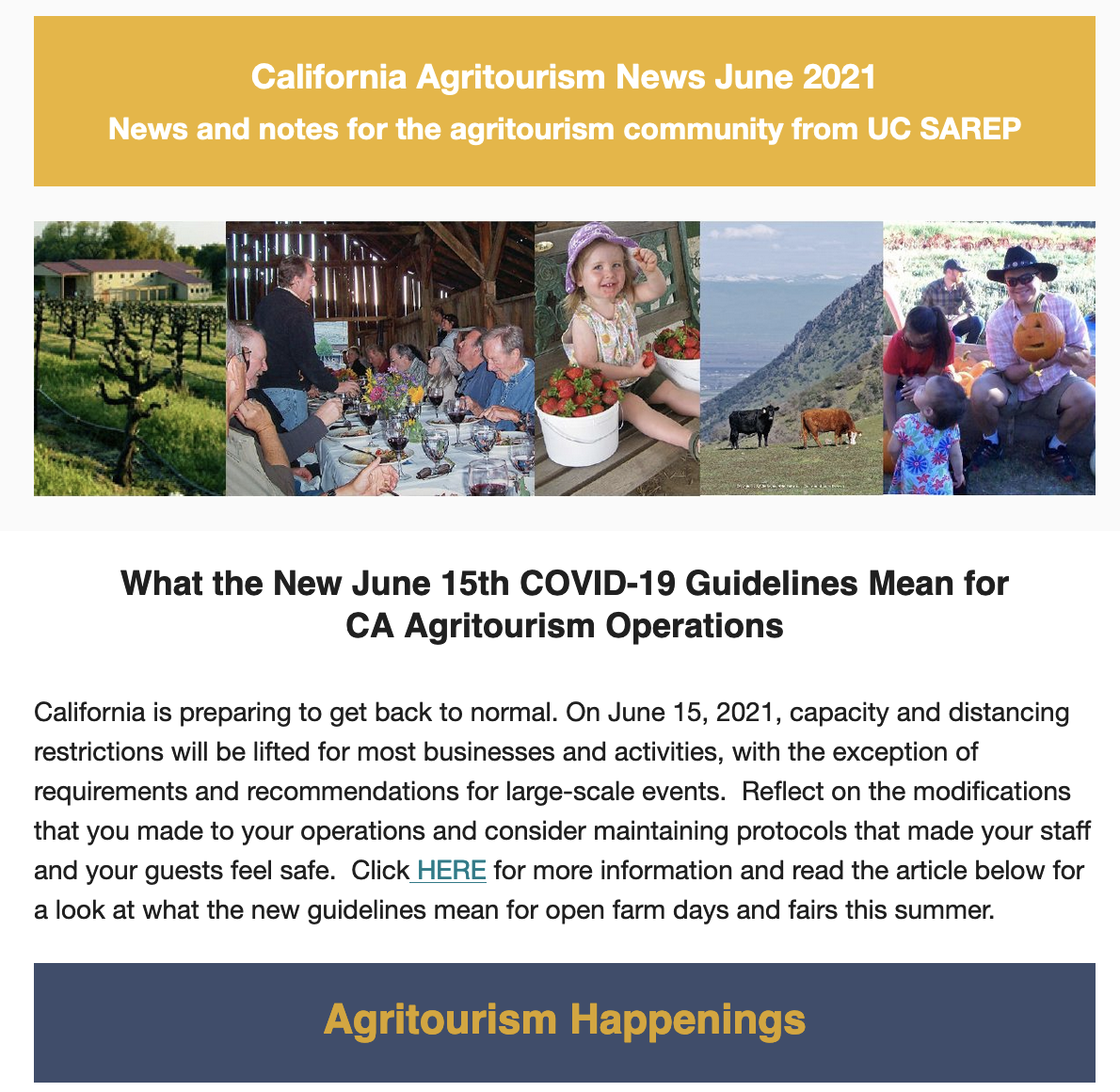 The California AgTour Connections e-newsletter is a chance for growers, agritourism operators, county staff, tourism professionals, and others to keep up with news and information.
---
Contributors: Leigh Archer, Bev Ransom, Mariah Coley
Reviewed by:
How to cite this page
UC Sustainable Agriculture Research and Education Program. 2017. "Urban Agriculture." What is Sustainable Agriculture? UC Division of Agriculture and Natural Resources. <https://sarep.ucdavis.edu/sustainable-ag/urban-agriculture>