Food and nutrition education has a critical role in enabling access to sufficient quality and quantity of foods for households and communities. Education for youth can contribute to decreasing rates of childhood nutritional deficiencies and food insecurity. Adult educational seminars and resources in food and nutrition have been shown to positively affect individuals' food choices. With the appropriate support from researchers, activists, and professionals, these changes can significantly alter the overarching sustainability of the food system.
Overview
---
Nutrition and food systems education can be focused on a number of related topics and aimed at individuals, households, and groups of all ages. For example, the UC CalFresh Nutrition Education Program's curriculum includes food self-sufficiency, food budgeting, food preparation skills, food safety and sanitation, feeding infants and children, and physical activity. These topics and others can comprise a comprehensive food and nutrition education approach that addresses quantity of food, quality of food, and other lifestyle choices that affect nutrition and health.
UC Research and Outreach in Nutrition and Food System Education
---
UC CalFresh is a program funded through the US Department of Agriculture Food and Nutrition Service, the California Department of Social Services CalFresh branch, and UC Cooperative Extension. The program is a state run coordinator of the Supplemental Nutrition Assistance Program (SNAP), which provides support to low-income people in the US through food purchasing benefits.  
In 2008 SNAP expanded the funding available for nutrition education. The Expanded Food and Nutrition Education Program (EFNEP) was developed through this additional funding. The goal is to increase the likelihood that people in California who are eligible for the federal nutrition program make healthy food choices and opt for physically active lifestyles. The mission of California EFNEP is to improve household and individual nutritional education through four core areas. This includes diet quality and physical activity, food resource management, food safety, and food security.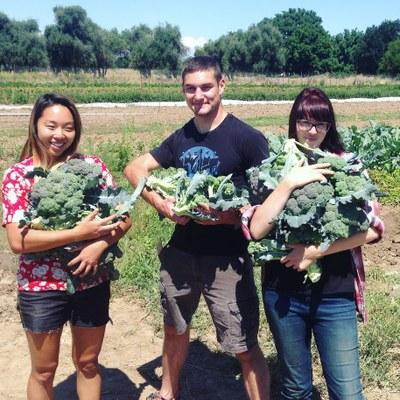 The national Farm to School initiative operates multiple networks across the State of California. This approach assigns regional leads to help establish and maintain connections between and among counties. Several of these regional leads are directly affiliated with the University of California, while others may rely on resources and implementation assistance that can be provided through the university. 
The Nutrition Policy Institute (NPI) is an organization that assesses the impact of nutrition and physical activity on public health. Many focal research projects aim to provide evidence for supporting public policies related to eliminating health disparities that stem from lack of access to healthy foods. The goal of NPI is to enable communities where "healthy food, beverages and opportunities for physical activity are convenient, accessible, affordable and sustainable."
EatFit is a program developed at UC Davis to encourage adolescents to improve their food choices and lead healthier lifestyles. The program consists of an online application that performs an individualized eating analysis and follow-up teacher curriculum for hands-on activities to help students become more aware of their food choices. 
The Center for Nutrition in Schools provides educational programs and resources to improve student health and assist students in achieving their full potential academically, socially, and physically. The center conducts research to further characterize school environments that enhance food and nutrition awareness, knowledge, and skills.
Though mostly inactive as of 2018, the school gardening program at the Student Farm at UC Davis provides hands on training and additional resources to establish and continue the effective use of school gardens. The program is aimed at adults looking to enhance the educational components of school gardens.  
The UC Division of Agriculture and Natural Resources (UC ANR) provides a variety of resources to promote agricultural and food systems education across the state. UC ANR includes over 200 locally based cooperative extension advisors and specialists across the state and 130 campus-based cooperative extension specialists to provide farmers and other individuals access to reliable and accurate agricultural information.
Resources
---
---
Contributors: Leigh Archer, Bev Ransom, Mariah Coley
How to cite this page
UC Sustainable Agriculture Research and Education Program. 2017. "Nutrition and Food Systems Education." What is Sustainable Agriculture? UC Division of Agriculture and Natural Resources. <https://sarep.ucdavis.edu/sustainable-ag/education>