Conservation tillage is an agricultural management approach that aims to minimize the frequency or intensity of tillage operations in an effort to promote certain economic and environmental benefits.
These include a decrease in carbon dioxide and greenhouse gas emissions, less reliance on farm machinery and equipment, and an overall reduction in fuel and labor costs. In addition, conservation tillage methods have been shown to improve soil health, reduce runoff, and limit the extent of erosion. With a range of potential environmental and economic benefits, a well-developed and properly integrated conservation tillage practice can contribute toward the sustainability of an agricultural system.
Overview
---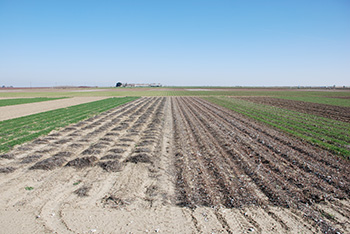 Tillage systems have traditionally been used as a method to prepare for planting, control weeds, remove plant residue, and loosen compacted surface soil. While tillage can be a critical component in a successful and profitable agro-ecological enterprise, minimizing mechanical operations and soil disturbance in a field can lead to benefits such as reduced soil erosion and associated air and water pollution; decreased fuel expenditures and costs of production; and reduced subsurface soil compaction from tractor passes.   
The UC ANR Conservation Agriculture Systems Innovation initiative (CASI) has developed terminology and classifications for conservation tillage systems. Conservation tillage, or minimum tillage, is a broadly defined practice that includes no-till, strip till, ridge till, and mulch till systems.  These techniques maintain plant residues on at least 30% of the soil surface after tillage activities. When compared to conventional practices, minimum tillage systems can reduce tillage passes by 40% or more.  By definition, all of these tillage techniques have a clear conservation goal, such as reducing the volume of soil disturbed or preserving surface residues in order to maintain soil, environmental, and economic viability.
Retaining crop residue on the soil surface throughout the year can provide a cover that reduces wind and water erosion, runoff, or particulate matter and nutrient loss, resulting in benefits for water and air quality.  Tillage reduction can enhance soil aggregation, promote biological activity, and increase water holding capacity and infiltration rates.  This leads to greater available soil moisture, improved soil tilth, and increased organic matter content.  In addition to the ecological benefits, reducing tillage can prove to be economically advantageous for farmers.  Minimizing machinery passes over the field reduces labor and saves time, limits machinery wear, and conserves fuel.  
Although there are a range of benefits to conservation tillage techniques, there is potential for improper implementation to result in a loss of productivity or profitability.  Mechanical weed control through tillage is an important practice for many growers looking to reduce reliance on herbicides.  After reducing tillage farmers may be inclined to transition towards more chemical inputs to control weeds.  Insect, rodent, and pathogen pest problems may also increase with tillage reduction due to continuous plant residue on the soil surface.   
In recognition of the potential for conservation tillage to contribute toward healthier farms and food systems, the UC is active in a number of ways in developing knowledge and exchanging information in the California farming community on conservation tillage production systems.
Conservation Tillage at UC
---
The Conservation Agriculture System Innovation (CASI) is a workgroup of university researchers, regional farmers, agency representatives, and environmental groups who work together to develop knowledge and exchange information about conservation tillage systems within California.  CASI collaborates to host annual conferences and demonstration based workshops to further increase interest among producers to learn reduced tillage techniques.  The goals of this workgroup are:
To increase the sustained adoption of conservation cropping systems to more than 50% of cropping acreage by the year 2028.  
To develop and deliver information and education on the economic and environmental benefits of conservation cropping systems
To engage with national and international organizations to serve as a clearinghouse for information to promote conservation tillage and cropping systems
To increase funding for conservation tillage and cropping systems adoption, research, and education in California

A 2010 survey conducted by CASI analyzed the trends in conservation tillage, including which methods have been more readily adopted across California.  This survey found that as of 2010 conservation tillage approaches were being used for approximately 47% of the total acreage in California annual crop production systems.  While the conservation tillage trend appears to be gaining significant interest among growers, there are many steps towards applying conservation tillage management techniques that researchers are continuing to address.  In addition to supporting CASI initiatives, UC ANR has a Conservation Agriculture Blog which provides news and updates about conservation tillage and other conservation methods.  
Information on the techniques that are practiced as conservation tillage methods are outlined and described in Classification of Conservation Tillage Practices.
CASI also partners with a number of statewide, regional, and national organizations with shared goals of creating and exchanging knowledge on conservation tillage production systems.
UC Resources
---
Photos: UC Division of Agriculture and Natural Resources
Contributors: Leigh Archer, Jihoon Im, Bev Ransom, Mariah Coley
 
How to cite this page
UC Sustainable Agriculture Research and Education Program. 2017. "Conservation Tillage." What is Sustainable Agriculture? UC Division of Agriculture and Natural Resources. <https://sarep.ucdavis.edu/sustainable-ag/conservation-tillage>