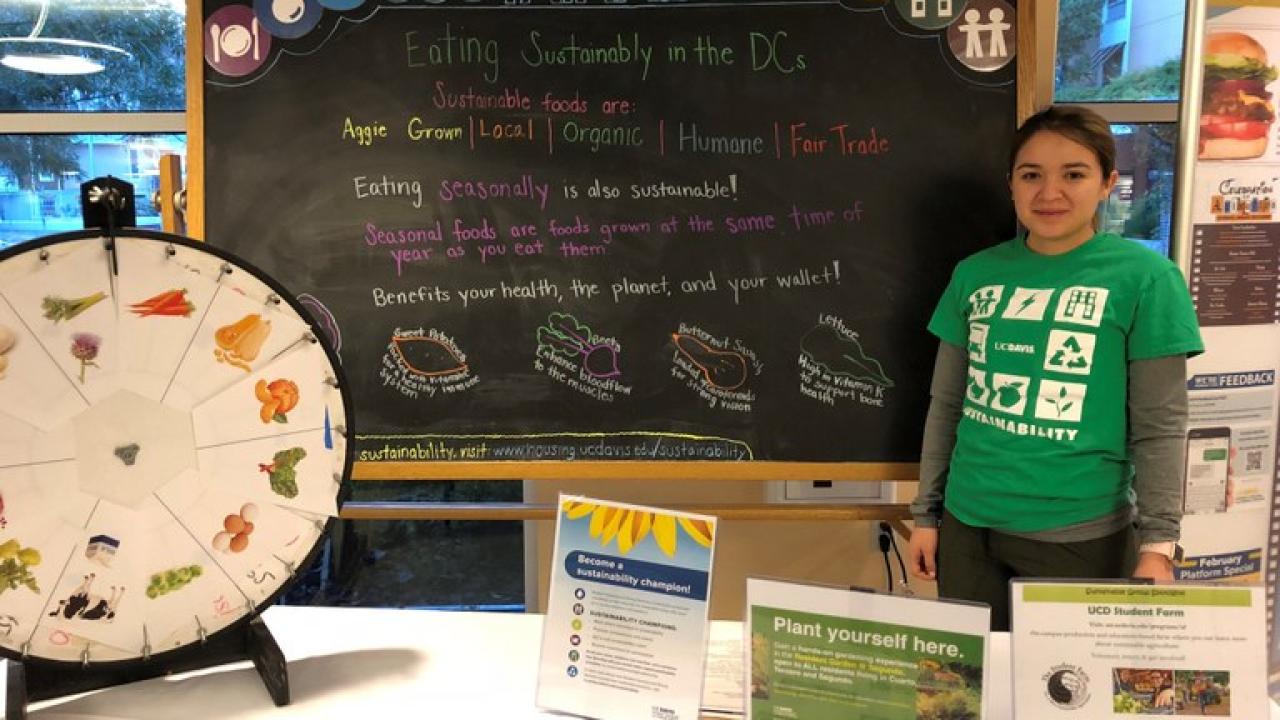 A project funded by the Global Food Initiative and led by UC SAREP Deputy Director Gail Feenstra, Food Supply Chain Analyst Gwenaël Engelskirchen, and Graduate Student Researcher Li Schmidt is examining local food sourcing at ten UC and CSU campuses to help campuses reach sustainable sourcing goals. In addition to gathering information about local food sourcing, this project is also examining the role of food hubs—or local food distributors that aggregate products from multiple small and mid-sized producers—in providing local food to campuses and the role that students play in campus purchasing of local food.
By Li Schmidt
Over the past year, I have worked on a UC SAREP research project funded by the Global Food Initiative (GFI) documenting local food sourcing at UC and CSU campuses. Through interviews with directors of Dining Services, environmental and sustainability coordinators, executive chefs, dieticians, and students, our project has collected data on three main topics related to sustainable and local food sourcing on these campuses: 1) current purchasing practices, 2) sourcing successes and challenges, and 3) student involvement. While the focus of this blog post will be sharing data collected from campus interviews, other goals of the project are to develop the capacity of California food hubs to sell to institutional buyers and to help the UCOP achieve sustainable sourcing goals.
Project background and campus characteristics
A representation of 10 campuses was selected based on geographic range, a high level of sustainable food procurement, and/or the presence of a student farm. The campuses interviewed were UC Berkeley, UC Davis, UC Los Angeles, UC Merced, UC Santa Barbara, UC Santa Cruz, UC San Diego, CSU Chico, CSU Monterey Bay, and CSU Sonoma. Interviews consisted of 35 questions and were conducted between September 2017 and February 2018 over the phone. The volume of food and coffee transactions at campus dining facilities ranged from 2,000 to 32,000 transactions daily, all campuses interviewed had purchased local food during the 2016-17 school year, and most defined local food as food that is grown, raised, handled, and distributed within 250 miles of campus.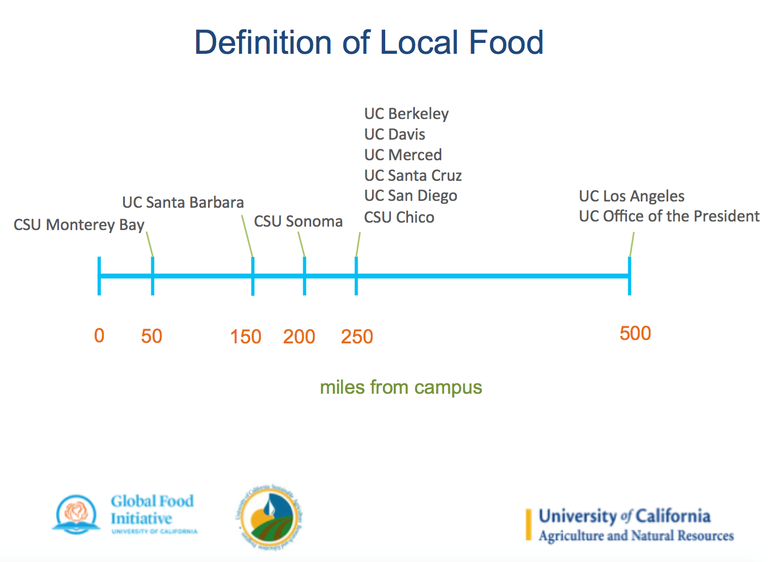 Local is part of Sustainable Campus Food Goals: reaching 20% Sustainable or Real Food by 2020
All the campuses interviewed already have criteria in place around local food sourcing; it is one category of many when it comes to the definition of sustainable food on UC and CSU campuses. In order for food to count towards sustainable food purchases, it must meet at least one of thirty-two criteria including locally grown, Fair Trade Certified, USDA Organic, and Certified Humane Raised & Handled1.  At CSUs, the policy used to define sustainable food comes from the Real Food Challenge, an organization started in 2007 that provides a platform and the tools for college campuses to commit to purchasing 20% Real Food by 2020. In order to count as Real Food, food must fall into one of four categories: Local & Community Based, Fair, Ecologically Sound, and Humane2.
We learned that the main method that campuses in both systems use to track food purchases is to collect dining invoices from the school year and tally purchases based on the sustainable or Real Food criteria. Both the UC and CSU systems have a goal of reaching 20% sustainable or real food by 2020 and according to the latest annual sustainability reports, most UCs are near or above 20% sustainable food purchases and several CSUs have reached the 20% real food goal, with several more near reaching the goal by 20203. While reaching these goals will increase sustainable food purchased, it doesn't necessarily mean an increase in local food, though most campuses interviewed indicated that it is a high priority for them to increase locally purchased food.
Adding nuance to local food purchases: looking at farm size
The Food & Society team at UC SAREP conducts research focused on building and expanding local food systems in California, such as strengthening local food supply chains, conducting regional food assessments, and building the capacity of food hubs—businesses or organizations that aggregate, distribute, and market local food products4. However, simply looking at local as a geographic parameter doesn't capture important social and environmental farm characteristics, like the scale of production, growing practices, and/or farm ownership by young and beginning farmers and farmers of color. For the purposes of our research, we wanted to know if campuses were tracking farm size in their local purchases.
Small and mid-sized farms have been a focus in developing regional food systems because of their potential to help grow the local economy, their use of more sustainable, diversified farming practices, the increased transparency between producer and consumer, and that they tend to be family-owned rather than corporation-owned5. Small and medium sized farmers defined by the USDA are those that make under $500,000 gross annual sales per year. These farms have struggled with financial viability due to competition from large-scale, agribusiness production, among other factors, which has led to research in developing consistent, wholesale market channels for these farms—a role that institutions such as the UC and CSU could potentially fill.
While all campuses interviewed purchased local food in 2016-17, only four campuses were able to answer the following question: "Do you know how many small to medium-sized farmers are represented in your local food purchases?" The four campuses that were able to answer this question all cited that the reason they knew this number was because they sourced from a food hub—and the number of farms represented was relatively low when compared to the number of small and medium-sized farms that exist in California. The awareness around sourcing traceability and the farm name/scale of farms that sell to campuses points to challenges around sustainable food tracking and the potential need to revisit campus food policy to emphasize scale, production, background of farmers in addition to the distance of farms from campus. However, it also points to the challenges these farmers face in selling to high volume buyers. In order to understand this more, we asked campuses what some of their local food sourcing challenges and successes have been.
Local food sourcing challenges and successes
The top challenges cited by campuses for sourcing local food were the high price of local food, having enough supply to meet the volume of institutional demand, planning seasonal menus, and having time constraints for tracking purchases, ordering, and processing local food. Another challenge mentioned by campuses was the time spent on research to determine what sustainability category a purchase fits into and, as demonstrated above, knowing who their local farmers are and the scale and methods of production.
Some local food sourcing successes campuses mentioned were helping a meat producer scale their operation by buying lower demand meat cuts, purchasing from farms using ecological methods and fair labor standards, working with vendors to include local ingredients in their products, improving labeling of local and sustainable food in menus, sourcing produce from a food hub, and working with staff on improving processing skills for local food.
Next steps: student engagement and building food hub-campus relationships
The next steps for this project are to examine student involvement with local food sourcing in order to see what role students can play in helping campuses support more local food, specifically from small and medium-sized farms; we will also be planning an event where food hubs and campus buyers can meet and develop business connections. This fall, you will be able to read the full report of our findings on the UC SAREP website—stay tuned!
[1] UCOP Sustainable Policy 2016, p. 24
[2] Sustainability in the California State University 2014-2017, p. 5
[3] UC Annual Sustainability Report 2016, Sustainability in the CSU 2014-2017
[4] USDA Regional Food Hub Resource Guide 2012
[5] MSU Center for Regional Food Systems "Valuing Michigan's Local Food System". 
Category