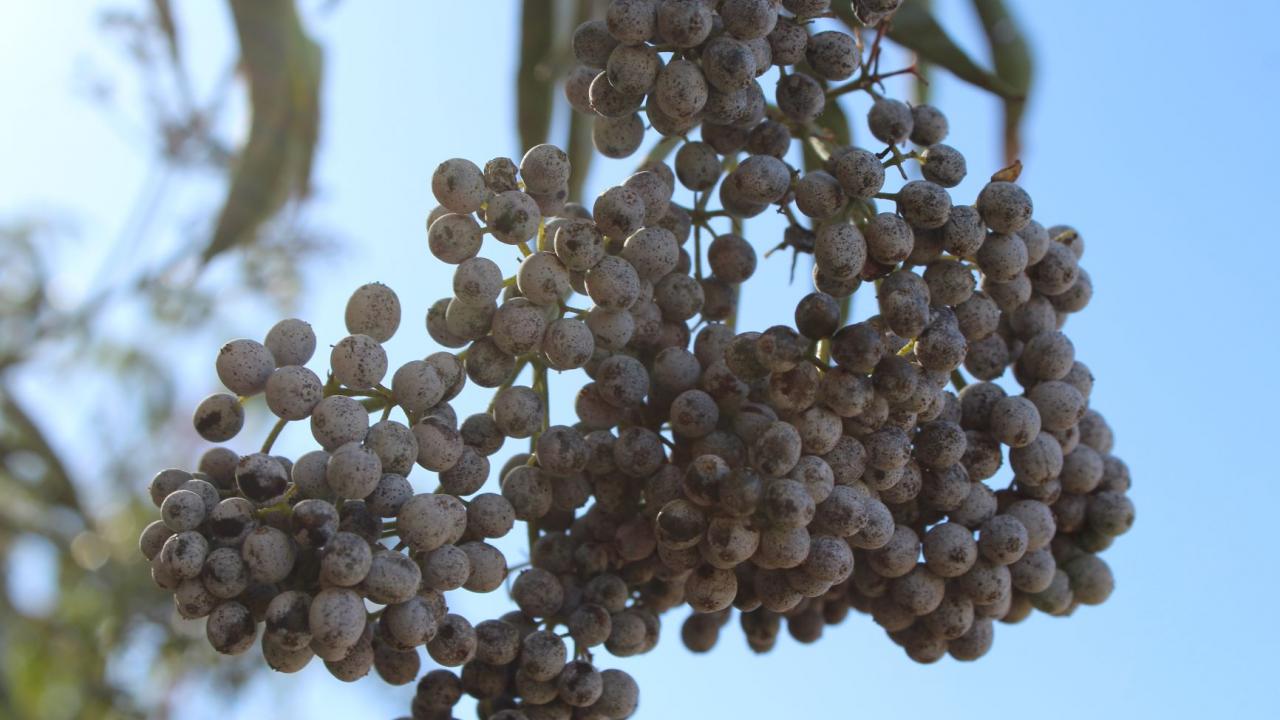 California elderberries have rich benefits for farms and diets
By Jeannette Wernart, UC ANR
Originally posted Oct 1, 2019: https://ucanr.edu/News/?routeName=newsstory&postnum=31440
Native California elderberries can be found at the intersection of sustainable farming, super nutrition and economic viability. Naturally drought tolerant, flavorful and packed with nutrients, they are capturing the interest of farmers, health-conscious consumers and scientists. 
Elderberries were the focus of a field day offered by UC Agriculture and Natural Resources Sustainable Agriculture Research and Education Program in September at Cloverleaf Farm, an organic berry and tree fruit operation in Dixon.  
Elderberries occur naturally around the world. In California, Native Americans used the tree's stems for making flutes, berries for food and purple dye, and bark, leaves and flowers for their purported anti-inflammatory, diuretic and laxative properties. 
"They had a relationship with the plant for food, medicine and music," said UC SAREP academic coordinator Sonja Brodt. "We honor the elderberry's history here and thousands of years of management. We thank the native people for that."  
UC Cooperative Extension advisor Rachael Long said elderberries are her favorite native plant. 
"They're pretty in the spring and summer. The flowers smell like cloves. It's a wonderful fragrance," she said. 
But perhaps the best attribute of elderberries for Long, a proponent of planting hedgerows on the edges of farmland, is the trees' ecological benefits. Elderberries can be among the rows of trees, shrubs, grasses and sedges in hedgerows that attract beneficial insects and pollinators to farms to help with biocontrol of pests and pollination of plants in adjacent crops. 
"Flowering native plants like elderberries, toyon, Christmas berry, coffee berry, manzanita and coyote brush provide nectar and pollen for native bees, honey bees and other insects," Long said. "I see a lot of green lace wings (predators of aphids, spider mites and other pests) in elderberry." 
Long reported on a tomato farm that didn't have to spray as much for aphids because of the beneficial insects attracted by the hedgerow. "They saved $300 per acre each year," she said. 
Hedgerows require long-term planning and care, including weed control. Establishing a hedgerow costs about $4,000 for a 1,000-foot-long planting with a single row of shrubs and trees bordered by native perennial grasses. At that rate, Long has calculated that a return on investment in pest control takes about 15 years. For pollination, the return on investment is about 7 years. 
Installation of hedgerows can be eligible for cost sharing with USDA's Natural Resources Conservation Service Environmental Quality Incentives Program. Costs can also be offset by harvesting the elderflowers and elderberries in the hedgerow and making value-added products – such as syrups and jams – or selling the flowers or berries to a processor. 
Farmer Katie Fyrie shared how Cloverleaf Farm is managing elderberries in a hedgerow, harvesting flowers in the spring to make and bottle elderflower cordial, and harvesting berries in the fall to produce and bottle deep purple sweet-tart syrup. Sixteen ounce bottles of cordial and syrup sell for $12 each. The cordial and syrup are ideal for serving with seltzer and ice for a fruity and uniquely wild-tasting drink. 
Fyrie is also working with Brodt of UC SAREP to gather data for research on best production practices, farm and processing labor costs, and yield comparison between native plants and named varieties from the Midwest. The study includes data from three California farms. 
The project is a collaboration involving the UC Sustainable Agriculture Research and Education Program (SAREP) - a program of the Agricultural Sustainability Institute at UC Davis, the UC Agricultural Issues Center, the UC Davis Department of Food Science and Technology and four farmers to assess the farm management practices, cost, nutritional content, and market potential of California elderberries. 
While laboratory research comparing the nutritional characteristics of the California blue elderberry with the North American black and the European black is continuing at UC Davis, food science professor Alyson Mitchell was able to share what is already known about the nutritional benefits of the fruit. 
She said elderberries are high in vitamin C, dietary fiber, phenolic acids and anthocyanins. They contain antibacterial, antioxidant and anti-inflammatory agents. While elderberries have a strong history as a treatment for colds and flu, more studies are needed to understand their medicinal use, Mitchell said. 
The field day in Dixon was among the first outcomes of the two-year project. Other planned outcomes are a growers' production guide, cost of production study, an assessment of market demand and nutritional analyses. The information will be made available, along with other resources on elderberry cultivation and processing, on the ASI website.  
Thank you to our presenters!
Sonja Brodt, UC Sustainable Agriculture Research & Education Program (SAREP)
Statewide Program of UC Agriculture and Natural Resources committed to strengthening California's agriculture by advancing knowledge of the science of sustainability, supporting farmers and ranchers working to develop more sustainable agricultural practices, and assisting communities in building strong and healthy regional food systems.
https://asi.ucdavis.edu/programs/ucsarep
Katie Fyhrie, The Cloverleaf Farm
An eight acre orchard and farm outside of Davis, California, bursting with peaches, nectarines, apricots, figs, and berries.
https://thecloverleaffarm.com/
Rachel Long, UC Cooperative Extension
Bridging the gap between local issues and the power of UC research through youth development, home food preservation, nutrition, urban horticulture, and agricultural programs.
http://cecapitolcorridor.ucanr.edu/
Jahniah McGill, Solano County Environmental Health Division
The Food Program protects public health and safety by ensuring that food facilities serving food to the public meet minimum construction, sanitation and safe food handling practices required by the California Retail Food Code (Cal Code).
https://www.solanocounty.com/depts/rm/environmental_health/consumer/food_program/default.asp
Erin Sharman, The Remedy
Using modern and advanced functional medicine techniques coupled with the ancient wisdom of energy medicine, primal nutrition, yoga + acupuncture we seek to restore total being: Mind, Body & Spirit.
http://www.theremedymartinez.com/
Wendy Rash, Natural Resource Conservation Service
An agency of the United States Department of Agriculture that provides technical assistance to farmers and other private landowners and managers.
https://www.nrcs.usda.gov/wps/portal/nrcs/site/national/home/
Katie Reneker, Carmel Berry Company
Handcrafted small batch elderberry syrups & cordials using the highest quality ingredients sourced from small farmers.
Katie Uhl, UC Davis Department of Food Science & Technology
The internationally recognized Food Science and Technology Department makes food healthier, tastier, and safer for consumers. Students complete a rigorous scientific curriculum, such as Katie's area of focus on analytical food chemistry ranging from volatile analysis to phenolic quantification.
Category
Tags