UC SAREP announces new small grants awards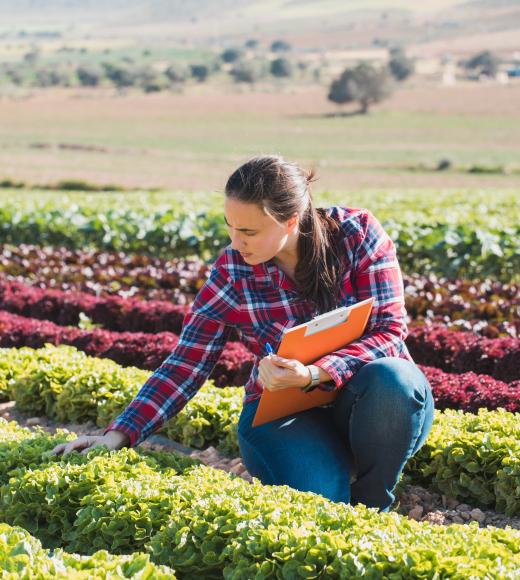 The UC Sustainable Agriculture Research & Education Program (SAREP) has announced the recipients of the Sustainable Agriculture and Food Systems 2023-24 Small Grants Program. Funds from this grant program are provided for research, education and demonstration projects that support the development of sustainable community food systems and environmentally-sound and economically viable farming enterprises.
Of 31 applications received, seven applicants were selected to receive approximately $80,000 in combined funding to support their work. Individual grants are limited to $10,000, except for one $20,000 applied research grant - this marks the first year a grant in this category was awarded. "I'm excited about the large range of topics our grantees are addressing this year," said Sonja Brodt, Associate Director of UC SAREP. "By facilitating these grants, SAREP is able to support ANR in engaging a wide range of food systems stakeholders, from small- to large-scale farms as well as farmworkers and prison populations."
The recipients of this year's grants are:
Shedding Light on the Economics of Livestock-Crop Integration in California

to develop and disseminate an initial understanding of current livestock-crop integration economics, describing the spectrum of practices and economic arrangements in California with information from practitioners. (Project lead: Morgan Doran, University of California Cooperative Extension)

Obstacles and Opportunities of Rural Food Systems: A Plumas County Applied Project

to deliver applied programs on a small production farm that focus on local food access, prioritizing underserved populations, and regenerative farming education. (Project lead: Jesse Mazar, Lost Sierra Food project)

Increasing Food Security and Reducing Food Waste to Underserved Communities through Education from UCANR Programs: Expanded Food and Nutrition Education Program (EFNEP), Master Gardener Program, and Master Food Preserver Program

to provide evidence-based and interactive nutrition, gardening, food safety and preservation workshops to enhance the health and well-being of limited-resource residents of San Bernardino County. (Project lead: Christine Davidson, UCCE San Bernardino, EFNEP)

Farm to Corrections California: Bringing Harvest of the Month Inside

to deliver locally grown produce for meals in three California Department of Corrections and Rehabilitation prison facilities and provide education and outreach for incarcerated people, correctional facility food service staff, and local growers about the benefits of fresh produce and sustainable agriculture practices. (Project lead: Heile Gantan, Impact Justice)

Sutter County Sustainable Gardening and Food Safety Program at Harmony Village

to empower the residents "Harmony Village," a low-income, permanent housing facility by expanding their small container community garden and by hosting classes where participants will learn how to safely preserve their limited fresh food. (Project lead: Whitney Brim-DeForest, UCCE Sutter-Yuba)

Enhancing Employment Practices and Farm Worker Education for Low-Income and Socially Disadvantaged Farmers in Mendocino and Lake Counties

to provide small farmers and ranchers in Mendocino and Lake counties with educational and networking opportunities designed to enhance their ability to recruit and retain workers, increase the educational level of the workforce, and provide farmers and farm workers with a greater understanding of regenerative agricultural practices. (Project lead: Michael Foley, School of Adaptive Agriculture)

Empowering the Cuyama Valley with Environmental Education and Agricultural Guidance

to provide environmental education and agricultural guidance to residents of the Cuyama Valley by offering educational day-long farm and site tours as well as workshops at the internationally renowned Quail Springs permaculture demonstration site. (Project lead: Brenton Kelly, Quail Springs)
To receive notification of the next Small Grants Program request for proposals, sign up for our newsletter HERE.