Recent rainstorms demonstrate the importance of cover crops in maintaining soil surface conditions and preventing runoff.
Tony Rolfes, State Soil Scientist, USDA-NRCS, Davis, CA
Sonja Brodt, Academic Coordinator, UC Sustainable Agriculture Research and Education Program
Northern California has recently been deluged by rainstorms, with some places, such as Davis, getting over 7 inches in a 4-day timespan. For farmers, this rain brings welcome drops to a drought-depleted landscape, but it also brings challenges for managing soil sustainably. The physical force of the raindrops themselves can seal the surface of the soil, making it more difficult for subsequent raindrops to infiltrate the soil. Instead, they become runoff, taking with them precious water as well as soil particles. The planting of winter cover crops can help by protecting the soil surface and creating root channels that allows downward movement of water preserving both the water and soil on the field.

On a recent walk north of Davis, we saw these dynamics in action. The three photos were taken from the same vantage point. The first photo taken was looking west viewing the bare field with field rows stretching lengthwise showing runoff water. The second photo was taken turning ninety degrees looking to the north also viewing the bare field with runoff water. This vantage point shows the tremendous amount of water running off the field posing a lost opportunity for stored water in the soil. The third picture with vegetative cover was taken turning an additional ninety degrees looking east with no visible water leaving the field.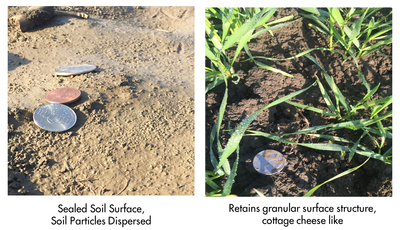 A week later another observation and photo taken at the same location shows the sealing of the soil surface caused by the winter rain storm on the field with no vegetative cover. The impact of the rain drops on the soil surface and dispersion of soil particles is evident. Subsequent rain coming this winter season will immediately runoff this field having poor physical soil surface conditions whereas the vegetative covered field maintained good soil surface conditions that will allow water infiltration the remainder of the season.
Learn more about soil health, cover crops, and sustainability:
California Soil Health Webpage 
Cover Crops Database, UC Sustainable Agriculture Research and Education Program (UC SAREP)
Soil Health Webpage, UC SAREP, Solution Center for Nutrient Management
Category