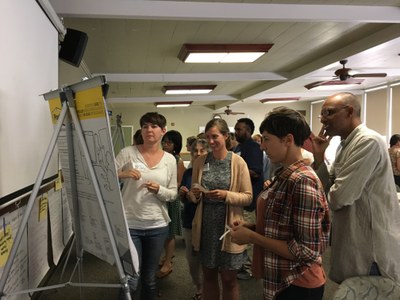 UC SAREP plays a role in convening organizations involved in educating, training and supporting California farmers.
Many organizations in California—non-profits, financial institutions, government agencies, UCCE—support small, beginning and limited resource farmers to develop their skills in production, marketing, land access, and business management. Other organizations offer training programs to aspiring farmers.
In order to explore opportunities for collaboration among these organizations, UC Sustainable Agriculture Research & Education Program (SAREP) and FarmsReach hosted a Farmer Education & Support Services Summit on September 9, 2016 in Sacramento. The Summit was conceived as an opportunity for thinking strategically  about the work we're all doing – what we're doing well and where we can improve – and to explore opportunities for working together more effectively.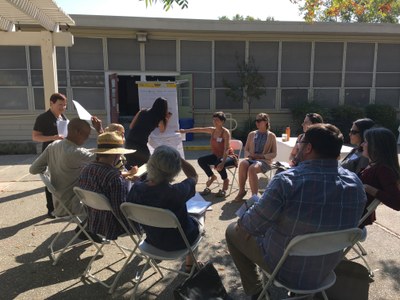 The Summit built on momentum from the Farmer Educator Network (FEN) started on the Central Coast and on results from the 2015 Convening hosted by FarmsReach and Multinational Exchange for Student Agriculture (MESA).
The one-day Summit was designed to achieve three main objectives:
(1) information sharing about different organizations' programming,
(2) networking between organizations,
(3) prioritizing shared goals to advance the work being done by this group.
We started the day by considering the landscape in which these groups work and exploring areas of overlap and opportunity. Then we took a focused look at collaborative fundraising – what possibilities exist for our organizations to access greater funds by working together. Finally, we identified priorities for moving this collaborative work forward.
Outcomes produced from the Summit were the following:
A Directory of Organizations with contact information, mission statement and programmatic activities of farmer education and support service organizations. The directory will be hosted on UC SAREP's website as a reference for farmers, funders, and organizations.
An Ecosystem Map showing where each organization in the directory is located and where they are active in California.
A Chart of Organizations showing the programmatic areas of activity for each organization and the methods they are using for delivering the information.
Identification of 15 priority actions to advance the collective work of these organizations.
Within the next few months, we plan to produce a "white paper" that will describe in more detail the strategic opportunities and funding ideas that emerged, as well as the actionable ideas.