Location
Center for Land Based Learning (CLBL) @ The Cannery: 1550 Cannery Ave, Davis, CA 95616
From business planning to labor laws, basics to help you succeed.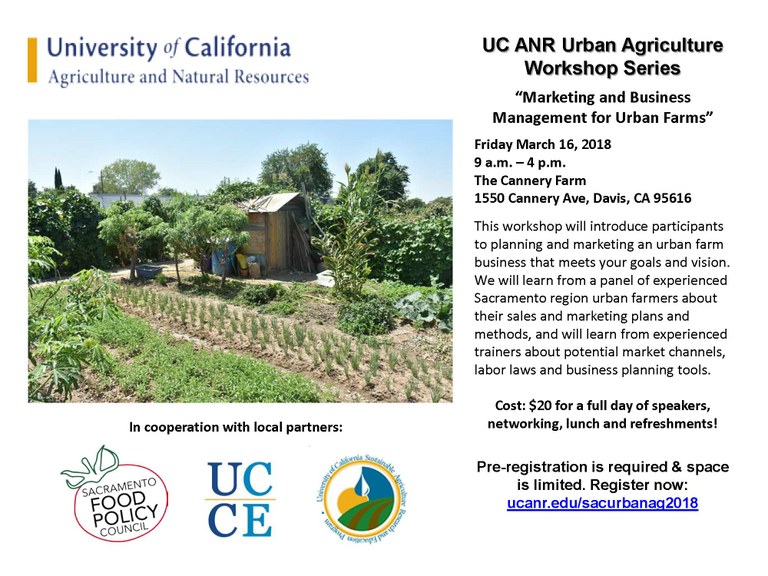 Are you an urban farmer evaluating potential marketing venues and methods? A gardener who is thinking of selling some of your produce? A non-profit organization involved in producing food for your community? This special one-day workshop on Friday, March 16, 2018 from 9 am to 4 pm, will help position you for success. Participants will:
Begin planning a marketing strategy that meets your mission, vision and economic goals.
Learn the benefits and challenges of a variety of direct marketing channels, including farm stands, farmers' market sales, selling to restaurants, CSAs and others.  
Explore some basic elements of bookkeeping, cash flow and planning for profitability.
Learn about important labor and employment laws for urban farmers
Meet and learn from experienced local urban farmers about their sales and marketing plans and methods, and from a local farmers' market manager about what it takes to sell successfully at a farmers' market.
Tour a local urban farm.
The cost is $20, which includes a resource packet, refreshments, and lunch. Pre-registration is required. 
This is the first in a series of four Sacramento/Davis region workshops that will be held on 3/16, 4/6, 4/14, and 5/4, covering additional urban agriculture topics.
Learn more: http://ucanr.edu/sites/UrbanAg/
Register: ucanr.edu/sacurbanag2018